Life Is Strange is a multiplatform game developed by DONTNOD Entertainment and published by Square Enix. Life Is Strange follows the exploits of 18-year old Max Caulfield, a high school senior who learns she has the power to rewind time when she saves her childhood friend, Chloe Price, from being killed. Life Is Strange was released on the XBox One on January 29, 2015[2] and the PC via Steam and other online retail sites for PC Gaming on Janurary 30, 2015.[3] Its release on the PlayStation 3 and PlayStation 4 via the PlayStation Network was delayed until February 3, 2015 on account of technical problems.[4][1][5]
Story
Official Description
Characters
Summary
October 7, 2013
Eighteen year old Max (Hannah Telle) wakes in the middle of what she believes is a nightmare. Lost in the middle of a storm, Max reaches a lighthouse as it's destroyed by a swelling tornado. She awakes in the class of her teacher Mark Jefferson (Derek Phillips). To restore her composure, she proceeds to the restroom. There, Max witnesses classmate Nathan Prescott (Nik Shriner) murder a girl. In a single, sudden effort, she rewinds time and is returns into the classroom from before.
Informed of the following outcome, she hurries off to rescue the girl using her recently developed ability. It is revealed that the person Max saved was her childhood friend Chloe Price (Ashly Burch). The two reunite and go for a walk to the same lighthouse from her nightmare. Max then reveals to Chloe her capacity to travel back in time. It is made known that what she thought was a dream is rather the reckoning of a future event, and the storm, an approaching disaster headed for the town.
October 8, 2013
The following day, Max observes fellow student Kate Marsh (Dayeanne Hutton) being subjected to bullying for a viral video depicting her kissing several students at a party. It is suggested that she may have been drugged, and Max suspects Nathan as the perpetrator. Max visits the diner where Chloe's mother Joyce (Cissy Jones) works as a waitress and meets Chloe there. They decide to experiment with Max's power at Chloe's secret hideout, a scrapyard. However, this strains Max and results in her having a nosebleed and fainting.
Chloe takes her back to Blackwell Academy. During class, everyone is called out to the courtyard. Kate is up on the roof of the girls' dorm with the intention to jump. Max stops time unexpectedly and uses the ability in an attempt to reach Kate. At this point, she has the opportunity to convince Kate to get down from the roof and come with her. Ultimately, Max vows to uncover what happened to Kate and Chloe's missing friend Rachel Amber.
October 9, 2013
Max and Chloe break into the principal's office that night to investigate. After they search through his files, Chloe insists on entering the pool for a swim. The campus security—now alerted—comes to inspect the activity inside. They flee back to Chloe's place. The next morning, Max and Chloe depart for the diner to sneak into the motor home of Frank Bowers (Daniel Bonjour), a drug dealer and Rachel's friend. They learn that Rachel was having a romantic relationship with Frank and lied to Chloe about it.
Chloe storms off feeling betrayed. Back at the dormitory, Max examines a childhood photo of her and Chloe. Without notice, she is transported to the day that picture was taken. Faced with the chance to save Chloe's father William (Joe Ochman) from dying in a traffic collision, she conceals the keys to his car, which inadvertently creates an alternate timeline where Chloe has been paralyzed from the neck down.
October 10, 2013
In the alternative reality, Max comes across the photo that let her save Chloe's father, but now instead uses it to undo her decision and restore Chloe to health. It manages to re-establish the original timeline. Max and Chloe continue their investigation and obtain clues that lead them to an abandoned barn owned by the influential Prescott family. They discover a bunker hidden underneath that contains pictures of Kate and Rachel tied up and intoxicated—Rachel is shown in one image being buried at Chloe's secret hideout.
They speed in the direction of the scrapyard. Rachel is found dead and buried, much to Chloe's despair. Max follows Chloe to a school party to confront Nathan, believing he will target another student there as his next victim. They receive a text message from Nathan threatening to destroy the evidence, which returns them to the scrapyard. There, they are ambushed by Jefferson, who drugs Max and shoots Chloe in the head.
October 11, 2013
Max is held captive inside the bunker with Jefferson, who reveals that he has been drugging and kidnapping young girls in order to photograph them and, as such, capture their innocence. Max uses her powers to escape into a photograph. Emerging back at the beginning in Jefferson's class, she informs Chloe's stepfather David Madsen (Don McManus), the head of security at Blackwell, of her kidnapper's identity.
Jefferson is caught, Chloe is rescued and Max is afforded the opportunity to go to San Francisco and have one of her photos displayed in an art gallery. She calls Chloe from the event, realizing that, for all her effort, the storm has reached Arcadia Bay. Max teleports to the time she took the gallery photo, which eventually leads her to sojourn alternative realities as they devolve into a living nightmare.
By the story's end, Max arrives at the lighthouse with Chloe. They confront the fact that Max brought the approaching storm into existence by availing herself of the time travel abilities in the first place, and the only way to prevent it is for her to go back in time once more and allow Chloe to be killed by Nathan. Max must make a choice: sacrifice Chloe's life to save Arcadia Bay, or sacrifice Arcadia Bay in order to spare Chloe.
Episodes
Gameplay
Life Is Strange utilizes nonlinear gameplay element like dialog trees, re-popularized in point and click adventure games such as The Wolf Among Us and The Walking Dead by Telltale Games, and role-playing games like BioWare's Mass Effect series.[10]
According to DONTNOD Entertainment, player choice shapes the consequences of the game's narrative.[11] Max's ability to time travel, or rather rewind time, also plays a large part in how the gameplay alters story according to player choice.[11]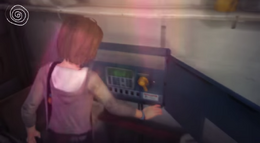 Life Is Strange is a graphic adventure, played from a third-person view.[12] Introducing the mechanic of rewinding time allows the player to go back and redo any action other than what is done past a checkpoint (however long a checkpoint lasts).[13]
Outfitted with a polarity system,[14] the choices made will alter and affect the story through short or long-term consequences.[15] Dontnod creative director Jean-Maxime Moris added however that "for each one of your choices that you make there's no definite answer. Something good in the short-term might turn out worse later".[16] Whenever a course of action poses an influence to the story, a butterfly symbol comes into view.[17]
All accessible possibilities are itemised at the end of each episode.[18] Dialogue exchanges can be rewound while branching options are used for conversation.[19][20] Once an event is reset, the details provided earlier are permitted to avail themselves in the future.[21]
Items that are collected before time traveling will be kept in the inventory after the fact.[22] The player can also examine and interact with objects indicated by a display of hand drawn icons, which enables puzzle solving.[23] Easter eggs are present in all the levels of the game to accommodate its exploratory traits.[24][25]
Development
Announcement
April 10, 2013, during the news of DONTNOD Entertainment's "bankruptcy", French gaming website Gamekult announced that the developer was searching for public funding for a new intellectual property, [tentatively] titled "What If?".[26][27] June 2014, gaming website IGN.com announced that DONTNOD Entertainment was collaborating with Final Fantasy developer, Square Enix, on a new property for "digital platforms".[28]
Taken from the source, develop-online.net, IGN stated neither DONTNOD or Square Enix were explicit on the exact nature of their collaboration, with regards to the new IP's gameplay or story.[29][28]
Gamescom 2014
August 11, during the 2014 Gamescom event, DONTNOD and Square Enix officially revealed the name and promotional content of their collaboration, Life Is Strange. The game was announced on Square Enix's official blog page.[30][3] Life Is Strange would be produced as an episodic game for digital download on the PlayStation 3, PlayStation 4, XBox One and PC.
Remember Me creative director, Jean-Maxime Moris stated, "Everybody at DONTNOD is excited to be working on such a refreshing title. "We're not only crafting the best game we possibly can, we also feel we're providing the type of experience that perfectly fits today's renewed taste for originality and diversity".[3]
Style and Theme
Jean-Maxime Moris said of the setting and art style, "The Pacific Northwest was something that we determined very early in the development process as the place we wanted to set the game in. That's because we wanted to have this very nostalgic and autumnal feel to the game, and in terms of colors ... to me it's really one of those places that bring this kind of nostalgia, and I mean this in a positive way. This sense of looking inside yourself".[31] All textures seen in the game are hand painted to achieve what artistic director Michel Koch called "impressionistic rendering".[32][12]
Although Life Is Strange holds significant differences from Dontnod's previous title Remember Me, Moris noted that the game addresses similar themes of memory and identity.[33] Running on an improved version of Unreal Engine 3, the game takes use of the tools and special effects "like lighting and depth of field" engineered for Remember Me as well as subsequent advances.[13] Moris remarks, "We're not only crafting the best game we possibly can, we also feel we're providing the type of experience that perfectly fits today's renewed taste for originality and diversity".[34]
Inspired by modern indie folk music,[35] the soundtrack intends to inform the game's peaceful mood and has been said to "permeate through every layer of story, art and sound".[16] Considered by Moris as "50% of the experience", the music will be a blend of licensed tracks and composed pieces.[36]
System Requirements
January 3, 2015, onlysp.com reported DONTNOD released minimum and recommended operation system requirements for Windows Vista and Windows 7.[37]
RECOMMENDED:

Operating System: Windows 7
CPU: Dual Core 3.0GHz or equivalent
Memory: 2 GB RAM
Hard drive Space: 3 GB available space
Graphics Hardware: ATI or NVidia card w/ 1024 MB RAM (NVIDIA GeForce GTX 260 or ATI HD 4890)
Sound Hardware: Version 9.0

MINIMUM:

Operating System:Windows Vista
CPU: Dual Core 2.0GHz or equivalent
Memory: 2 GB RAM
Hard drive Space: 3 GB available space
Graphics Hardware: ATI or NVidia card w/ 512 MB RAM (not recommended for Intel HD Graphics cards)
Sound Hardware: Version 9.0
Release
Digital Release
December 17, 2014 Square Enix officially announced that the release of the first episode of Life Is Strange would be January 30, 2015 across all platforms (Xbox 360, Xbox One, PlayStation 3, PlayStation 4, and PC via Steam).[1] All five episodes cost $4.99 (£3.99) each with the option of season passes. The season passes available cost $19.99 (£15.99) and $16.99 (£13.99) "for episodes two-to-five".[1]
July 21, 2016, The first episode of Life Is Strange was made "indefinitely free" for download for standard and PlayStation Plus Network members.[38][39] As of 2017, Life Is Strange is currently available for all platforms and Steam.
Physical release
In November 2014, the publisher expressed interest in having physical copies released of the game,[40] but added that they "are currently 100 per cent focused on the digital release".[41] Later, in 2015, the Standard and Limited Edition Physical Releases of Life Is Strange was announced December 11, 2015[42] for a January 2016 release exclusive to the PlayStation 4, PC and Xbox One. The Standard and Limited Edition release of Life Is Strange in North America was released January 19, 2016.[43] In PAL Regions, the Limited Edition of Life Is Strange was released on January 22, 2016.[44]
Japanese Release
September 7, 2015, Square Enix announced the Japanese release of Life Is Strange for the PlayStation and PC.[45] A Japanese twitter account for the game was set up by Square Enix Japan[46], announcing, "Life Is Strange, an adventure game featuring a high school girl who lives in a rural Oregon town, is coming to PS3/PS4 and PC in Japan."[45][47]
Following was the announcement of partial voice talents for the game, Lynn, tweeted that she would portray Chloe Price, stating, "I hope you're looking forward to the release!"[48] Kumi Tanaka, tweeted that she would be portraying protagonist, Max Caulfield.[49][45][47]
Episode 2 Leak
February 6, 2014, community users on Steam began reporting that the second episode, "Out of Time", had been leaked online. Many assumed that user reports were either a lie or the work of members of the website 4chan.[50][51]
Scott Blows, a community manager at DONTNOD Entertainment, officially confirmed that the leaked episode was in fact legitimate.[50] However, the version circulating the internet was an earlier and buggier version of the episode, which was still being worked on at the time of his confirmation. He urged users to resist the temptation of downloading the early build and wait for the official release of the second episode (still slated for a "mid-March" release) instead.[note 1][51]
Delays
February 26, 2015, video game news site Destructoid reported that Square Enix announced the delay of the second episode of Life Is Strange, "Out of Time".[52] When the site inquired about the reasons why, none were provided by the either the publisher or the games developers. Additionally a new release date was not provided.[52]
However, the following day, DONTNOD's official twitter for the game announced the episode not delayed, but expected to arrive at the end of March.[note 2][53] Following their announcement that episode was still on track, they released concept art of the upcoming episode.[54] Square Enix reported declined to comment further on the matter when questioned by Destructoid.[52] Earlier, DONTNOD stated that the episodes were "roughly" and not definitely scheduled for a six week release.[55][56]
In an interview with Eurogamer, Dontnod dismissed the previously reported release schedule of six weeks between each episode, which had initially caused the rumours of delay.[57] "We're doing our best", said co-game director Michel Koch, "The idea is to keep it at less than two months".[58]
Critical Reception
As Life Is Strange is an episode game, an overall an comprehensive consensus of the game may not reached or aggregated until long after the game's release. As such, this subsection of the article will be updated as and when.
"Chrysalis"
"Episode 1: Chrysalis" was met with generally positive feedback. While it was criticized for its lip-syncing[59][60] and use of dialogue,[61][62] critics most notably lauded the character development,[63][64] music[65][66] and time travel component,[67] declaring "there should be more games like [it]".[68][69]
The episode was praised for its accomplishments in contrast with what Telltale Games had done in the past to progress the genre.[70] GameRankings aggregated the Microsoft Windows version a rating of 78%, the PlayStation 4 version 78.32%, the PlayStation 3 version 85% and the Xbox One version 78.75%. Metacritic offered the Microsoft Windows version a 79/100 grade, the PlayStation 4 version 76/100 and the Xbox One version 78/100.
"Out of Time"
"Episode 2: Out of Time" received positive reviews. Aggregating review websites GameRankings and Metacritic gave the Microsoft Windows version 79.50% based on 4 reviews and 73/100 based on 6 reviews,[71][72] the PlayStation 4 version 81.67% based on 6 reviews and 77/100 based on 10 reviews,[73][74] and the Xbox One version 68.50% based on 4 reviews[75] and 68 based on 3 reviews.[76]
"Chaos Theory"
"Episode 3: Chaos Theory" received positive reviews. Aggregating review websites GameRankings and Metacritic gave the Microsoft Windows version 74.50% based on 2 reviews and 80/100 based on 7 reviews,[77][78] the PlayStation 4 version 79.75% based on 24 reviews and 80/100 based on 28 reviews,[79][80] and the Xbox One version 83.00% based on 10 reviews and 80/100 based on 12 reviews.[81][82]
"Dark Room"
"Episode 4: Dark Room" received positive reviews. Aggregating review websites GameRankings and Metacritic gave the Microsoft Windows version 80.33% based on 6 reviews and 76/100 based on 8 reviews,[83][84] the PlayStation 4 version 82.52% based on 21 reviews and 80/100 based on 29 reviews,[85][86] and the Xbox One version 76.88% based on 8 reviews and 73/100 based on 10 reviews.[87][88] GameRankings gave the PlayStation 3 version 65.00% based on 1 review.[89]
"Polarized"
"Episode 5: Polarized", was commended for having offered a "fitting conclusion" to the coming of age story of Max Caulfield and the relationship between the two leads was similarly noted as having been carried out successfully.[90][91] One stealth sequence was described as "tedious" and "out-of-place" while other aspects inhabiting the same course of events were favoured.[92][93] Reviewers were essentially divided on the ending,[94][95][96][97] citing the episode's subtitle as something that mirrored their own feelings toward it.[98][99]
Since its release in October 2015, aggregating review websites GameRankings and Metacritic gave the Microsoft Windows version 80.29% based on 7 reviews[100] and 83/100 based on 8 reviews[101]; the PlayStation 4 version 83.46% based on 24 reviews[102] and 81/100 based on 30 reviews[103] Metacritic gave the PlayStation 3 version a 69/100 rating based on 1 reviews[104] and GameRankings gave the PlayStation 3 version 65.00% based on 1 review.[105] The Xbox One version 80.00% based on 6 reviews[106] and 80/100 based on 7 reviews.[106][107]
Accolades
May 7, 2015, Life Is Strange was nominated for a Develop Online award.[108] May 26, 2015, DONTNOD Entertainment was invited to BAFTA for a showcase focusing on the storytelling of Life Is Strange.[109][110] July 11, 2015, DONTNOD were given Develop Awards for "Best Narrative" and "Best New IP".[111][112] September 1, 2015, DONTNOD was nominated for six Golden Joystick Awards (Best Audio, Best Original Game, Best Storytelling, Best Gaming Moment, Best Gaming Performance, Ultimate Game of the Year) for the thirty-third award ceremony.[113][114] The game won "Performance of the Year" (Ashly Burch) and placed third for "Best Gaming Moment" (Saving Kate) and "Game of the Year".[113] Life is Strange won a total of nine awards near the end of 2015.[115]
Sales
The first episode was ranked fifth among the best selling PlayStation 4 and PlayStation 3 video games of February 2015.[116] Prior to the release of "Dark Room", Life Is Strange reached one million sales[note 3][117] in July 2015, having accumulated over 1.2 million unique players worldwide.[118][119]
The attach rate to units between the complete season and season pass proved to be "extremely strong", divulged Square Enix.[119] The retail edition made seventh place in the top ten UK game sales chart for the week ending 23 January 2016.[120]
Season Two
During the 2015 Electronic Entertainment Expo, creative director Luc Baghadoust was interviewed by Polygon and asked if DONTNOD Entertainment was interested in continuing the episodic series with another game, or rather a "second season". "We would love to have the opportunity to do another season," Baghadoust said.[121]
Baghadoust elaborated that if a second game were greenlit, the narrative would focus on new characters, as they felt the story of Max Caulfield and Chloe Price was "narratively complete", and adopting anthology approached used in series such as American Horror Story and True Detective.[121] "We can really go with other characters, other locations, but still keep the identity of the game, the themes of the game," he said.[121]
February 2017, rumors began to circulate that DONTNOD Entertainment was working on a "second season" of Life Is Strange.[122][123] May 18, 2017 the development team later confirmed the news with a special announcement video on the game official social media sites and the official Square Enix blog.[124][125][126]
Digital Series
July 27, 2016, DONTNOD Entertainment and Legendary Entertainment officially announced that Legendary's subsidiary, Legendary Digital Studios, would be collaborating with dj2 and Square Enix to create a "digital" television series out of the 2015 adventure game, Life Is Strange. No further details are available at this time.[127][128]
Trivia
Videos
Announcements
Trailers
Behind the Scenes
Gameplay
Gallery
Promotional
Screenshots
"Chrysalis"
"Out of Time"
"Chaos Theory"
"Dark Room"
"Polarized"
Concept Art
Wallpapers
External Links
Notes
References
↑ 12.0 12.1 Gaca, Christian (22 August 2014). "One of the oddest reveals of Gamescom also proved to be one of the most interesting. Here's what the Remember Me developers did next.". gamereactor.eu. Retrieved 11 November 2014.M Cite error: Invalid <ref> tag; name "rendering" defined multiple times with different content
↑ 13.0 13.1 "Life is Strange A Brief yet Delightful Look at the Next Game Behind the Developers of Remember Me"
↑ 16.0 16.1 Life is Strange: It takes time to be different Cite error: Invalid <ref> tag; name "repercussion" defined multiple times with different content
↑ Stubbsy, Mike (26 January 2015). "Life Is Strange: an Interview with Creative Director Jean-Maxime Moris". God is a Geek. Retrieved 26 January 2015.
↑ Life Is Strange Gets New Screenshots Showing Dontnod's Lovely Art Style; It looks Super-Sweet on PS4
↑ Life Is Strange Episode One 'Chrysalis' Review: A Beautiful And Incomplete Melancholy, Like Life Itself
↑ REVIEW: 'Life Is Strange' Puts You in the Shoes of a Time-Bending Teen...and That's a Real Good Thing
↑ "Life is Strange: Episode 3 - Chaos Theory". PC, Gamerankings.
↑ "Life is Strange: Episode 3 - Chaos Theory". PC, Metacritic.
↑ "Life is Strange: Episode 3 - Chaos Theory". PS4, GameRankings.
↑ "Life is Strange: Episode 3 - Chaos Theory". PS4, Metacritic.
↑ "Life is Strange: Episode 3 - Chaos Theory". XBO, GameRankings.
↑ "Life is Strange: Episode 3 - Chaos Theory". XBO, Metacritic.
↑ "Life is Strange: Episode 4 - Dark Room". GameRankings.
↑ "Life is Strange: Episode 4 - Dark Room". Metacritic.
↑ "Life is Strange: Episode 4 - Dark Room". GameRankings.
↑ "Life is Strange: Episode 4 - Dark Room". Metacritic.
↑ "Life is Strange: Episode 4 - Dark Room". GameRankings.
↑ "Life is Strange: Episode 4 - Dark Room". Metacritic.
↑ "Life is Strange: Episode 4 - Dark Room". GameRankings.
↑ Last night at the Develop Awards, Life is Strange took home two awards for 'Best New IP' and 'Best Narrative'. Thank you all for the on-going support!
↑ 127.0 127.1 Legendary Digital Studios to develop a digital series based on Life is Strange! Cite error: Invalid <ref> tag; name "lisblog" defined multiple times with different content
↑ Fisher, Cydney (23 December 2014). "VIDEO GAME SPOTLIGHT: "Life Is Strange"". Indiewire. Retrieved 29 January 2015.
↑ Ashly Burch, GameSpot, and Dev. Michael Koch talk Life is Strange - Kinda Funny Stage Show E3 2015