"If anybody else looked at this, what would they think?"
—Max Caulfield[1]
"Max's Journal" is a personal account of Max Caulfield's thoughts and opinions on events and characters that appear throughout Life Is Strange. All text presented is written as presented in the in-game journal and contain alternate entries depending on the choices of the player.
List of Journal Entries
Pre-Game Events
Alternate Timeline Entries
Character Entries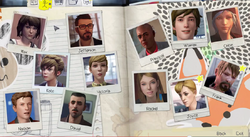 Character entries in Max's Journal are brief overviews of key characters introduced throughout Life Is Strange. Max will write a short entry on each character after meeting them. New entries are marked with stars in the upper left corner of the photograph accompanying their biography.
"Chrysalis"
"Out of Time"
Menu
While the journal is always on hand, it's never shown in game until Jefferson takes it away from Max in Episode 5: Polarized, in which she later uses it to go back in time to the beginning of the week.
The journal and all of it's contents can be used like a menu, where opening it pauses the outer game. The only exception to this is when Max receives a text from Chloe in class, and Jefferson calls her out on it. The moment the text is opened, it will immediately close.
The only time the journal entries are not readable is when Max returns to her timeline in Episode 5: Polarized, but Mr. Jefferson has burned it for no stated reason. If Max is to open the journal, the pages will appear brown and cracked. However, the other pages of the journal are still there, including text messages and character entries.
References
Community content is available under
CC-BY-SA
unless otherwise noted.