Jurassic World: Dominion Dominates Fandom Wikis - The Loop
Play Sound
Remember Me (Original Soundtrack)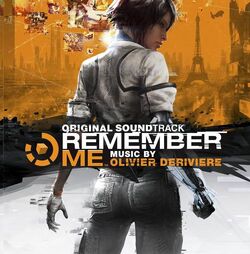 Date Released
June 3, 2013
Media Type
Digital Download
Remember Me (Original Soundtrack) is the official soundtrack for the third-person action adventure game of the same name. Released June 3, 2013 by Capcom, the digital release features fifteen tracks composed by Olivier Deriviere[1].
Background
In an interview with Game Informer, Deriviere said: "Remember Me is not just a game; it's a fully realized world that the creative team at Dontnod created from scratch. During my first contact [with the game], I was quite confused by so much information and I felt the music should reflect this confusion".[2]
Speaking to MTV Multiplayer about the game's main theme, Deriviere said that players would not hear it until the end of the game, since the theme is scattered in pieces through the rest of the score to reflect the nature of the game and the story of Nilin.[3][4]
iTunes Tracklisting
No.
Title
Music
Length
1.

"Nilin the Memory Hunter"

 
Olivier Deriviere
3:26
2.

"Rise to the Light"

 
Olivier Deriviere
3:34
3.

"Still Human"

 
Olivier Deriviere
3:11
4.

"Fragments"

 
Olivier Deriviere
2:19
5.

"Neo Paris"

 
Olivier Deriviere
4:00
6.

"The Enforcers"

 
Olivier Deriviere
2:15
7.

"Chase Through Montmartre"

 
Olivier Deriviere
4:43
8.

"Memory Reconstruction"

 
Olivier Deriviere
3:13
9.

"The Fight"

 
Olivier Deriviere
3:21
10.

"Our Parents"

 
Olivier Deriviere
2:54
11.

"Memorize"

 
Olivier Deriviere
3:58
12.

"The Ego Room"

 
Olivier Deriviere
3:00
13.

"Remember Your"

 
Olivier Deriviere
4:03
14.

"The Zorn"

 
Olivier Deriviere
2:27
15.

"Hope"

 
Olivier Deriviere
3:02
49:35
References